Truck Accidents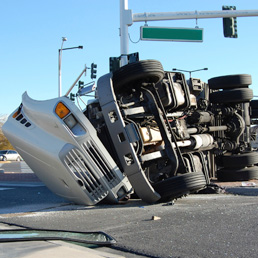 Taking On Big Louisiana and National Trucking Corporations
Given the sheer size and speed of semi-trucks and other large commercial vehicles, the drivers and passengers of smaller vehicles are at great risk of injury when they are involved in a truck accident. Trucking companies and their insurance carriers, however, are most often concerned with their own bottom lines and will attempt to mitigate damages as much as possible.
If you or a loved one has been involved in a truck accident, you need to know your rights and how to protect them. At Dodson & Hooks, APLC, our truck accident attorneys deal with the insurance adjusters and help you pursue the maximum compensation you deserve. We have extensive experience in litigating truck accidents and have recovered significant verdicts and settlements for our clients throughout Louisiana and Baton Rouge.

Building a Commercial Vehicle Crash Claim
Throughout Baton Rouge, New Orleans, Metairie, Kenner and other areas of Louisiana, especially on I-12 and I-10, truck accidents are far too common. Some of these accidents occur as the result of poor road conditions and hazard work that is being performed on those roads. Currently, a considerable amount of construction is underway in Louisiana, contributing to the dangers on the road for all types of vehicles.
In addition to representing those hurt in truck accidents, our attorneys represent those harmed in accidents caused by dangerous roadways and construction workers who have been hit by trucks while on the job. Therefore, depending on your individual circumstances, you may have a multiparty claim. For example, we may suggest you sue both the city for the poorly maintained roadway and the tractor-trailer company whose negligent driver caused the crash. Likewise, you might have a workers' compensation claim in addition to your civil lawsuit.

Driver Error is a Common Cause of Trucking Accidents
One of the most frequent causes of a commercial vehicle accident is driver error. Driver error includes:
Sleep deprivation
Distracted driving
Talking or texting on a cell phone
Internet surfing
Prescription or over-the-counter stimulant use
Drunk or drugged driving
Unfamiliarity with the roadway
Speeding or reckless driving
Driving in extreme weather conditions
The driver's employer is often legally responsible for the driver's mistakes. Our firm investigates whether the company failed to properly train the driver, hired drivers with traffic violations or pressured drivers into speeding, forgoing sleep or texting to reduce delivery times.

Investigating the Cause of Your Truck Accident
During the aftermath of a truck accident, corporations are usually anxious to distance themselves from the cause of the crash to minimize liability. Our Baton Rouge truck accident attorneys dig deep to get to the root of the cause. We visit the scene of the accident, interview witnesses, subpoena phone records, examine toxicology results and consult with engineers and other experts to determine what happened and who is at fault.

Contact Our Attorneys for Truck Accident Representation
For more information regarding our truck and commercial vehicle accident representation, contact us at Dodson & Hooks, APLC. Call our Baton Rouge truck accident attorneys at 225-756-0222 or toll-free at 800-644-0633. You can also complete our online form to schedule your free initial phone consultation.