Motorcycle Accidents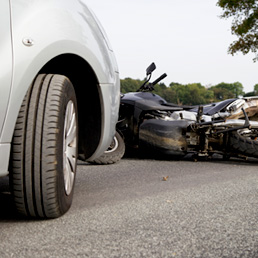 Helping Injury Victims Recover For More Than 40 Years
If you have been injured in a Louisiana motorcycle accident, you know that the matter is serious. You need immediate assistance from a personal injury lawyer who is qualified to handle your claim.
The law firm of Dodson & Hooks, APLC has helped injured motorcyclists recover damages for more than 40 years. Our lawyers work as a team to handle your case from start to finish. This team approach allows you to reap the benefit of our decades of combined experience and extensive resources. In addition, our firm limits the numbers of cases we take so we can devote the time and effort necessary to produce successful results.
Talk with the Baton Rouge motorcycle accident lawyers at Dodson & Hooks, APLC to learn more about pursuing your legal rights. Our multilingual phone service is available 24-7 so you can obtain immediate assistance with your case.

Advocates for Motorcycle Accident Victims
Our firm does not accept the premise that a bias against bikers exists in the legal system of Louisiana or that a biker should have to settle for less compensation than he or she deserves. Sometimes insurance companies do not have the best interests of accident victims in mind and will often work hard to limit the compensation they pay out.
Before you sign any document, keep your legal rights in mind. Our firm represents individuals who have suffered neck and back injuries, spinal cord injuries and brain injuries after motorcycle accidents in Louisiana and Baton Rouge.

Common Motorcycle Injuries
Motorcycles allow you to enjoy the freedom of the road. However, along with the excitement and pleasures of riding come substantial risks. Bikes do not have seatbelts to hold you in place or airbags to cushion any impact. These factors contribute to the severity of motorcycle crash injuries.
Our lawyers negotiate with the insurance company to recover the maximum possible compensation for medical costs, lost wages, pain, suffering and other damages for such serious injuries as:
Brain injuries
Spinal cord damage
Multiple fractures
Amputation
Severe road rash
Lacerations and abrasions
Soft tissue injuries

Negligence in a Motorcycle Accident
Most motorcycle accidents are preventable, but for the negligence of another driver. Our Baton Rouge motorcycle accident lawyers investigate whether one of the following negligent actions caused your crash:
Poor road maintenance resulting in potholes and cracked pavement
Construction crew leaving road debris on the highway
Motorist failing to yield
Speeding and reckless driving
Driver distracted by a cell phone or texting
Drunk or high driver
Defective bike parts causing mechanical failure

Consult with Our Experienced Motorcycle Accident Lawyers
For more information regarding our motorcycle accident representation, contact Baton Rouge-based Dodson & Hooks, APLC by calling 225-756-0222 (our toll-free number is 800-644-0633). We are also available online. Your first phone consultation is free.