Maritime Law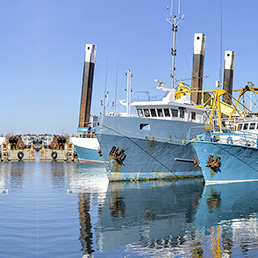 Advocating for Seafarers' Rights Around the World
If you are injured while working on a vessel, your legal claim is handled differently than other types of work accidents. Likewise, special wage and hour rules apply to seafarers. A large body of complex statutes and international treaties govern your right to recover job injury compensation or recoup unpaid wages.
The Baton Rouge law firm of Dodson & Hooks, APLC, has obtained millions in compensation for workers who have suffered offshore injuries under the Jones Act and for lost wages under penalty wage statutes. Our Baton Rouge maritime attorneys represent individuals throughout Louisiana, across the United States and around the world. As a result, our attorneys are recognized throughout the industry for their ability to obtain results.

Gulf Coast Admiralty Attorneys Help Injured Seamen
Maritime occupations typically involve dangerous duties. In the early 1900s, seamen injured while performing their jobs had little recourse. In fact, employers often suffered no consequences for recklessly disregarding the safety and wellbeing of their crew. Passage of the Merchant Marine Act of 1920 — known as the Jones Act — granted important legal rights to seafarers.
Getting compensation under the Jones Act and other maritime laws is very complicated. The Jones Act states that the negligent employer must compensate an injured seaman for damages received as a result of an injury. General maritime law states that a vessel owner must compensate an injured seaman for transportation, wages, maintenance, and cure, without regard to liability. If the injury is due to negligence, our law firm seeks additional compensation for pain and suffering.

Unpaid Wages Under Maritime Law
Not receiving prompt payment for your hard work is disheartening. After being away from your loved ones for months, unpaid wages can also place a financial strain on your family. Even if your vessel takes you to distant, remote areas of the world, your wages claim may nonetheless fall under the special provisions of the U.S. maritime laws. Our Baton Rouge maritime attorneys take action against your employer to recover your rightful earnings.

How Our Louisiana Maritime Law Attorneys Can Help
Maritime laws apply to employment on a variety of vessels, ports and loading docks. Our firm has experience with many types of accidents and injuries involving offshore workers, including:
Our office is located in Baton Rouge but we represent injured workers living and working throughout the United States and the rest of the world. We have assisted clients from Poland, Russia, Japan, Philippines, the United Kingdom and elsewhere.
Our international correspondents help you wherever you are in the world and our multilingual 24-hour phone service allows you to call us from any time zone.

Contact Our Firm for Maritime Law Representation
For more information regarding our maritime and admiralty law representation, contact us at Dodson & Hooks, APLC. Call our Baton Rouge law firm at 225-756-0222 or toll-free at 800-644-0633 to schedule your free initial consultation.