Bridge Collapses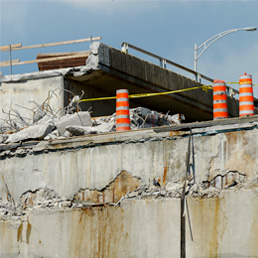 Federal law now requires each state to properly inspect its bridges every two years. However, even when faults are found, many times nothing is done to correct them or the process is delayed. This negligence can cause catastrophic injuries and even death. If you or a loved one was seriously injured due to a bridge collapse or other type of structural defect, it is important to take the time to seek out legal counsel from a skilled and knowledgeable personal injury lawyer.

Baton Rouge Bridge Collapse Lawyers
At Dodson & Hooks, APLC, we pride ourselves on providing compassionate and dedicated personal injury representation to victims throughout Louisiana. Our law firm has recovered millions of dollars for accident victims in tragic accidents, such as bridge and other structural collapses. Whether it was the state, city or municipality that was negligent or the private party contracted to inspect the bridge, we will hold all negligent parties responsible for their actions.
To discuss your case in a free consultation, contact our Baton Rouge bridge collapse attorneys today. Call 225-756-0222 or toll-free at 800-644-0633.

Structural Collapses: Bridge, Roof, Building
Anytime there is a partial or full collapse of a structure, there are going to be significant injuries involved and even deaths. What is even more tragic about these accidents is that many times they could have been prevented if not for the negligent acts and sometimes inaction of city or state officials who did nothing to inspect or fix a safety violation. There is a reason why codes are put into place: to protect the safety of our citizens. The complete disregard of any violations or delay in fixing known violations is extreme negligence on all parties that attributed to the accident.
We can help you and your family seek damages for such an extreme accident. Structural collapses can include:
Bridge Collapses
Roof Collapses
Building Collapses
Wall Collapses
Our attorneys will work with experts within the industry who can help determine what caused the collapse and what should have been done to prevent such a tragic event.

Bridge Collapse? Talk To Our Louisiana Injury Attorneys
Whether you were injured in a building, bridge or some other type of structural collapse, we are prepared to assess your case and legal options free of charge. To speak with an experienced Louisiana lawyer, contact us online.