Construction Accidents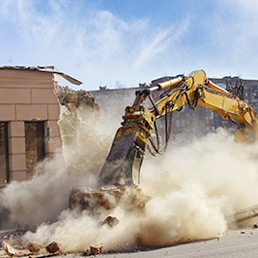 Baton Rouge Personal Injury Lawyers Helping Workplace Accident Victims
People working construction face many risks beyond their control. Even the most skilled and safety-conscious workers are susceptible to serious injuries. Performing job duties at elevated heights, near industrial equipment and with heavy materials on a busy and noisy site poses a constant accident risk.
When a severe or fatal construction accident occurs, many people assume workers' compensation is their only source of financial recovery to deal with medical expenses and other potentially staggering costs. In fact, investigation sometimes exposes negligence on the part of someone other than the injury victim's employer. It can be critical to contact a knowledgeable, experienced personal injury lawyer to explore and understand all legal options.
Dodson & Hooks, APLC can evaluate the circumstances that resulted in your accident to determine whether you have a third-party claim. A lawsuit in no way jeopardizes your right to workers' compensation. In fact, workers' compensation can provide you and your family with immediate relief if your injuries prevent you from returning to your job. You can continue receiving workers' compensation payments while you pursue your rights in civil court.

Focused & Experienced Legal Counsel for On-the-Job Injury Victims
Our Baton Rouge personal injury lawyers have decades of experience advocating for people with catastrophic injuries, targeting all compensation available for medical costs, lost wages and other damages. Our work on behalf of families grieving a wrongful death and coping with brain injuries or spinal injuries resulting in paralysis, dismemberment and other life-changing harms has earned our firm widespread respect from past clients and other lawyers.
Working with qualified experts as needed, our team is exceptionally prepared to investigate any serious Louisiana construction site accident and determine the best course of legal action. Construction injury cases we handle include:

Third-Party Construction Claims
You do not have to prove your employer was negligent to receive workers' compensation benefits. However, you must prove negligence to prevail in a civil lawsuit. Our Baton Rouge personal injury lawyers evaluate whether you have a cause of action against a third party, such as:
A driver who ran into you while you were working on a road construction crew
A landowner who failed to warn you about a hidden defect in the property
An equipment manufacturer that produced faulty tools or machinery
A company that supplied toxic chemicals without warnings or proper storage containers
A subcontractor who acted carelessly

Contact Our Skilled Louisiana Personal Injury Lawyers
Construction accident victims and their families often face pressure to accept a quick insurance settlement that does not adequately address their financial and other needs. At Dodson & Hooks, APLC, you will benefit from caring, focused legal counsel dedicated to your recovery and future. For a free case evaluation, contact us by telephone at 225-756-0222 (toll-free) or online today.