Cell Phone and Car Accidents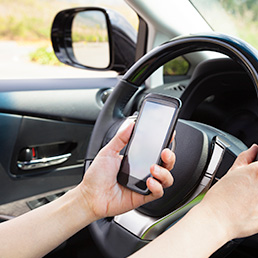 Cell phone use and texting while driving is irresponsible behavior that has resulted in hundreds of accidents across Louisiana and the United States. Unfortunately, innocent drivers and passengers become victims of serious injuries when others choose to text and talk on the phone while driving.
In 2008, Louisiana instituted a statewide texting ban, which allowed law enforcement officials to ticket drivers using their phones only if they were pulled over for another offense. A new law, in 2010, made it a primary offense to text while driving.
At Dodson & Hooks, APLC, our firm provides experienced representation for individuals and families who have been negatively impacted by texting while driving. We understand the devastation that can take place and work hard to protect our clients' rights.

Distracted Driving Accident Lawyer
Studies show that texting while driving is as dangerous as drunk driving when you compare the level of impairment for the driver. As cell phone use becomes more and more prevalent, and people start to feel as though they cannot live without their phones, this type of behavior has increased.
The human brain simply cannot concentrate on driving and cell phone use at the same time at a level that is high enough to maintain safety.

Contact Our Firm for Representation
For more information about cell phone use, texting while driving and other forms of distracted driving, contact Dodson & Hooks, APLC. Call our Baton Rouge motor vehicle accident firm at 225-756-0222 or toll-free at 800-644-0633 to schedule an initial consultation.