Cerebral Palsy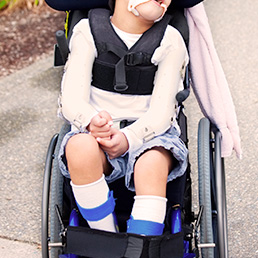 Baton Rouge Cerebral Palsy Attorneys
If your baby has been diagnosed with cerebral palsy, you are probably wondering if the doctors or hospital did something wrong to cause your child's injury. Unfortunately, hospitals often provide little information to parents in birth injury cases. It may take an attorney's help to get you the answers you need.
At the law firm of Dodson & Hooks, APLC in Baton Rouge, Louisiana, our firm has extensive experience handling medical malpractice claims in cases of birth injuries. Call 225-756-0222 or toll-free at 800-644-0633 for a free initial consultation. If your child's injury was caused by the negligence of the doctor or hospital staff, you may be entitled to compensation to pay for your child's treatment and care expenses now and in the future.

How Did My Child Get Cerebral Palsy?
Cerebral palsy is caused by a problem in brain development. The condition is often caused by a gene mutation or other problem that happened before your child was born. In these cases, there is likely nothing your doctor or the delivery nurses could have done to prevent the condition from happening. In other cases, however, cerebral palsy is caused by a lack of oxygen to the brain during labor or delivery.
Our law firm has a physician on staff who can provide an initial evaluation of your case, and we obtain medical records to make certain that we offer you a realistic initial assessment. If we think that your doctor or the hospital staff failed to follow the accepted standards of care in your case, we will then seek an opinion from a licensed obstetrician who can testify about the applicable standards of care in court.
If your child's injury was due to medical malpractice, then we will do everything possible to hold the medical professionals accountable and obtain the compensation that could make all the difference for your child and your family's future.

Request an Informative Consultation With Our Louisiana Fetal Distress Lawyers
For experienced and caring representation, contact our Baton Rouge cerebral palsy lawyers at 225-756-0222 or toll free at 800-644-0633 to schedule an initial consultation.