Spinal Injuries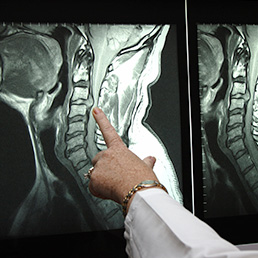 Difference-Making Legal Representation After Serious Accidents in Louisiana
An injury to the spinal cord, whether suffered in a fall, auto accident or otherwise, is almost always profoundly life-changing. Severe spinal injuries often result in paraplegia, quadriplegia or other serious loss of function — and even more moderate injuries typically bring chronic pain and inability to work. Surgical procedures may be risky and uncertain, and many people living with spinal injuries require costly rehabilitation, adaptive equipment or full-time care.
At Dodson & Hooks, APLC, our dedicated lawyers have built a widespread reputation for handling serious accident and injury cases with tenacity and integrity. If you or a family member has been disabled due to someone else's negligence, you can turn to us for legal counsel grounded in decades of successful, high-value injury case experience.

Diligent Investigation and Decisive Legal Action for Spinal Injury Victims
Our Baton Rouge spinal injury attorneys are prepared to investigate what happened to you or your loved one and take decisive action to help you recover maximum compensation. Our experience and capabilities extend to:
All types of serious motor vehicle accident cases, including those resulting in paraplegia, quadriplegia or a tragic wrongful death
Offshore injuries suffered by Jones Act seamen around the world, as well as those incurred by maritime workers covered by the Longshore and Harbor Workers' Compensation Act (LHWCA)
Representation of construction accident victims and their families after falls, heavy equipment accidents and other major injury-causing events
Advocacy for people who suffer serious complications from moderate spinal injuries, including disabling nerve disorders diagnosed as Complex Regional Pain Syndrome (CRPS) or Reflex Sympathetic Dystrophy (RSD)

Reach Proven Baton Rouge, LA, Paralysis Injury Attorneys: 225-756-0222
Facing a future with paralysis or other consequences of a spine injury can be overwhelming in every respect. We are intent on building compelling cases for our clients and reaching just, rapid resolution whenever possible — yet we stand always ready for trial if required to help you recover all the compensation you deserve.
Please do not wait to put proven legal counsel on your side. Contact a lawyer at our accomplished personal injury firm today for guidance and advocacy based on decades of experience helping families regain stability and move forward after tragic accidents.