Paralysis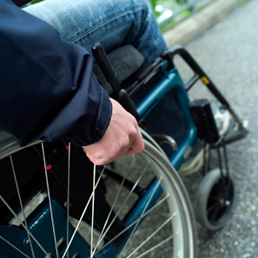 Seeking Maximum Compensation for Louisiana and Offshore Accident Victims
Whether the cause was a motor vehicle crash, a fall on a construction site, or a work accident aboard a seafaring vessel or in the oil fields, anyone coping with paralysis faces many imposing life challenges. At Dodson & Hooks, APLC, we are committed to providing comprehensive legal services for individuals and families striving to put their lives back together after catastrophic events beyond their control.
Our firm is a proven resource for victims of spinal injuries resulting in paraplegia, quadriplegia and other forms of paralysis. We have in-depth knowledge of the legal, medical and practical aspects of these cases. Even when a full physical recovery and return to life as before is not achievable, we make it our mission to help our clients get the compensation they need to live as independently and productively as possible.

Dedicated Advocacy for Paraplegic and Quadriplegic Clients and Their Families
Our team of Baton Rouge paralysis injury lawyers has earned numerous six-figure and million-dollar-plus settlements and verdicts in catastrophic injury cases, including some involving paraplegia and quadriplegia. Our passionate and relentless approach includes:
Conducting thorough investigations to prove negligence on the part of at-fault drivers, construction contractors, and others
Assembling credible, compelling medical evidence and testimony to substantiate the severity and lasting consequences of your injuries
Calling on rehabilitation specialists, life care planners, vocational experts, and others qualified to accurately project long-term financial needs
We carefully select valid, high-value cases in our chosen fields of maritime law, personal injury and medical malpractice, managing our caseload to ensure each client receives the utmost in focused attention. The clear target is a full and fair settlement through effective negotiation, but our track record in jury trials speaks for itself and often compels insurers and their counsel to bring their best offers to the table.

Contact Paralysis Accident Lawyers You Can Trust
If you or a family member has suffered a paralyzing injury or other serious harm due to someone else's negligence, we want to help. To speak with an attorney about your rights and legal options, call 225-756-0222.