Heavy Equipment & Truck Accidents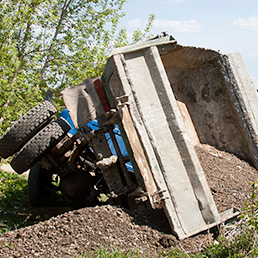 Baton Rouge Heavy Equipment Accident Attorney
Trucks and heavy equipment operate in close proximity to workers at construction sites. With the amount of noise generated by this equipment, workers often have little warning when they are placed in harm's way.
At the law firm of Dodson & Hooks, APLC, in Baton Rouge, Louisiana, our attorneys provide experienced representation for construction workers who are injured in truck and other types of accidents at construction sites. We also represent family members in cases of wrongful death. Call 225-756-0222 or toll-free at 800-644-0633 for a free initial consultation.

Can I Sue My Employer if I Am Injured in a Construction Accident?
When a construction worker is injured or killed on the job, the employer typically steers the injured worker or his or her family to workers' compensation. Unfortunately, workers' compensation benefits are limited and do not compensate you for everything you have lost. A serious injury may mean a long layoff from work or may even make it impossible to return to your job. If you rely on workers' compensation alone, you may not obtain enough money to meet your future needs.
If your injury or loss was caused by the negligence of another party, you may have the option of obtaining full compensation by filing a personal injury lawsuit against the negligent party. Examples of negligence in truck and construction equipment accidents include:
Hiring inexperienced or untrained operators of dangerous equipment
Truck accidents caused by the negligence of another driver
Crane accidents
Excavator injury
Trench collapses caused by heavy equipment operating nearby
Backing up over construction workers
Failure to follow OSHA safety regulations

Request an Informative Consultation With a Louisiana Truck Accidents Lawyer
For experienced and caring representation, contact our Baton Rouge heavy equipment accident lawyers at 225-756-0222 or toll-free at 800-644-0633 to schedule an initial consultation