Crane & Ladder Accidents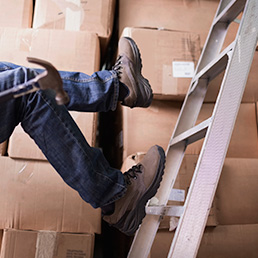 Baton Rouge Crane Accident Lawyers
Some of the most common construction site injuries are those involving cranes and ladders. Both can cause serious and even catastrophic injuries. If you or a loved one was injured in an accident related to the use of a crane or ladder, it is time to seek the experienced and dedicated legal representation that you deserve.
At Dodson & Hooks, APLC, our team of seasoned construction accident lawyers have many decades of experience in all types of construction, industrial, l
ongshore and harbor-related injuries
. What sets our law firm apart is not just our successful track record and extensive knowledge with these types of cases but our commitment to providing compassionate and personalized attention to each of our individual clients. We believe that you deserve nothing less than the highest of standards in catered representation to your specific personal injury case.
Contact our Louisiana law firm to discuss your construction or harbor-related accident case with one of our
Baton Rouge crane accident attorneys
. We offer free case evaluations.

Ladder or Crane-Related Accidents and Injuries
Ladders are used for all aspects of industrial labor and construction site jobs. However, if there are unsafe working conditions, a worker can easily get seriously injured due to the negligence of others. Whether your case involves workers' compensation or a third-party personal injury claim, we will make sure to thoroughly investigate all avenues of potential compensation.
Cranes are often used to lift heavy equipment such as steel beams and planks. When the crane is defective due to product liability or inadequate safety measures have been implemented, the threat of serious injury is high. Again, our lawyers will use their investigatory skills and experience to find out why an accident occurred and hold negligent parties responsible.
Ladder and crane injuries can include:

Contact Our Louisiana Ladder Accident Attorneys
For experienced and skilled construction accident representation, contact our Baton Rouge injury lawyers at 225-756-0222 or toll-free at 800-644-0633 to schedule an initial consultation. You can also
contact us online
.