Electrocution in Construction Accidents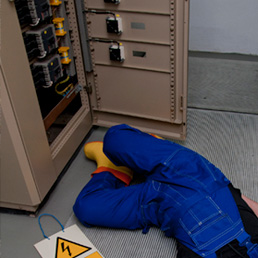 Baton Rouge Electrocution Accident Attorneys
Working near power lines or in any setting that can expose a person to contact with electrical current is extremely hazardous. Construction workers face this risk virtually every day, and the consequences of any negligence in observing safety measures are often devastating. Fatal electrocution can occur in an instant, and even the briefest electrical exposure can cause catastrophic burns and permanent neurological damage.
If a family member has been tragically electrocuted or you have been injured by electrical exposure on the job, your decision to contact an attorney for counsel could be critical for your future. Although workers' compensation benefits may be available to address some needs and damages, many such cases call for thorough investigation and action against a negligent party other than the victim's employer.

Investigation, Analysis, and Legal Action After Electrocutions
Our firm's intent focus on advocacy for injured workers and grieving families could make the difference in your ability to recover financially and personally after:
Electrocution caused by a crane accident or other incident involving equipment contact with power lines
An electrical shock or fire caused by improper wiring, failure to warn workers or other negligence
Malfunction of a power generator or other electrical equipment
Baton Rouge electrocution accident lawyers at Dodson & Hooks, APLC, will treat you with care and compassion in this extremely trying time. We recognize that, while no financial settlement or verdict at trial can fully compensate you for the loss of a family member, our passion and diligence can deliver the answers you need to find closure and compensation that can help you move forward.

Turn to Proven Baton Rouge, LA, Construction Accident Lawyers
We are committed to responding quickly to your need for legal counsel after an on-the-job accident. Our attorneys have a track record of success resolving high-value claims through compelling case building and negotiation, yet we stand always ready for trial if that is required to obtain the compensation you deserve under the law.
For an initial consultation on your electrocution accident case, call our offices now at 225-756-0222. You can also reach us online.